UNSW


Faculty of Engineering


School of Mechanical & Manufacturing Engineering


JGARG
Dean's Award for Excellence in Postgraduate Research
UNSW, Sydney, Australia - 27 Oct 2011
Supachai Vongbunyong, a PhD student and member of LCEM, was awarded with the Dean's Award for Excellence in Postgraduate Research 2011. He won a prize in the poster competition under the research theme: "Digital Future". The research topic is "Application of Cognitive Robotics in Disassembly of Products", under supervision of A/Prof Sami Kara and A/Prof Maurice Pagnucco (CSE).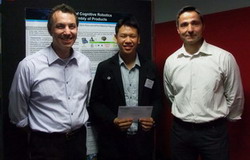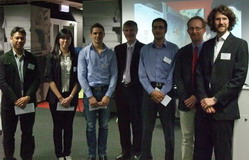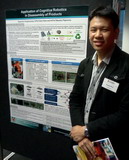 Photo (Left) - A/Prof Maurice Pagnucco, Supachai Vongbunyong, and A/Prof Sami Kara (left to rigtht)
Photo (Middle) - The winners in each research theme and Prof Graham Davies (Dean of Faculty of Engineering)
Photo (Right) - Supachai Vongbunyong and the awarded poster, "Application of Cognitve Robotics in Disassembly of Products"
Credit : Lynne O'Sullivan and Supachai Vongbunyong
<Click to enlarge>

Application of Cognitve Robotics in Disassembly of Products

Abstract
Disassembly is a key step for the efficient treatment of End-of-Life (EOL) products which greatly benefits to the product's value recovery and a reduction of the environmental impact. The automation has been introduced to perform this process due to economical feasibility, especially in developed countries, in comparison with the labour-intensive manual operation. However, majority of disassembly needs to be accomplished as a manual operation due to the uncertainties associated with the quality and the quantity of the product return, which has been the hindrance for the disassembly automation. The concept of "Cognitive robotics", an autonomous robot equipped with the cognitive functionalities, including Reasoning, Execution monitoring, Revision, and Learning is proposed to use for resolving these problems in automation. As a result, the system expects to be capable of dealing with any product model in one product group regardless of their specific structure and geometrical detail. Various models of LCD screens are used as the case-study.